Style My Hipdrop!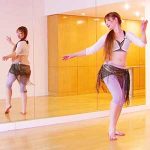 Dancers, has this ever happened to you? You have picked out the perfect costume, you have the perfect music, your makeup is perfectly done, you even have perfect technique to pull off any kind of dancing. Then the music gets started, you hear that heavy rhythm kick in, you know it's time for a hip drop, but then, which hip drop? Do you find yourself fumbling to pick which drop will perfectly match all of those other elements to create perfect seamless style? Or, did you maybe not even know that there is more than one drop, and all of this time you could have been that much more stylish?
Good news: never again will a hip drop style disaster befall you. Finally, you can put your fears to rest, because by the end of today's workshop, you will have all of the options laid out, and you will be ready to always choose the perfect drop.
In today's workshop, we'll look at:
crisp and isolated unweighted drops to the side
knee-driven double drops
weighted down hips, both single and double
Oriental sit and twist back
Oriental untwist and twist back
folklore double drop
hip kick built on down to the front and shift back.
"Style My Hipdrop" is primarily about style and stylization, and it's intended for intermediate dancers, but because we need a solid foundation to create successful variations, we'll also walk through all the technique you need. We will make sure that we understand the technical specifications that differentiate each drop, and you also have the opportunity to do a detailed mini-masterclass on everything around the hip drop–alignment, transition footwork, layers, ornamentations–because these surrounding style choices also affect what your hip drop expresses. So, whether you are choreographing or improvising, you will be empowered with confident choices about getting from where you are to the best place to go next.
Our format today is a long discussion segment on technique and concepts and this first half emphasizes informational content. After that we move into several follow-along flow segments where you will have an opportunity to put concepts into context. I designed this workshop as a start-to-finish program, but if what you want today is just follow-along dancing, the technique flow segments can also be done on their own, either in the sequence of the program, or you can just use them individually as stand-alone practice or drilling segments.
Length: 1 hour 25 minutes
Style My Hipdrop Bookmarks
:57 Staggered stance
3:42 Forward-facing transitions
7:26 Turned and Spiraled Stances, Turning Transitions
15:11 Other Footwork
18:08 General Styling Principles
20:44 Arms
24:59 Style Don'ts
29:57 Unweighted Drop Side
33:59 Weighted down hips
38:10 Oriental Sit and Twist Back
42:12 Oriental Untwist and Twist Back
45:04 Folklore Double Drop and Hip Kick
48:21 Flow 1: Unweighted Double Drop
1:00:26 Flow 2: Weighted Down Hips
1:05:55 Flow 3: Egyptian Double Drops