Veil Masterclass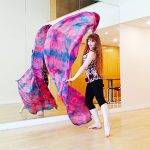 This open-level workshop simply has it all. Really. No, really. Autumn does not like to be one to toot her own horn, but this program is ASTOUNDING.
The Veil Masterclass is:
a comprehensive catalog of veil vocabulary, organized in clearly defined and easily-attainable foundation building blocks;
a detailed movement tutorial, with step-by-step breakdowns that include every nuance of hand and arm placement;
a trouble-shooting handbook that will put you in control of your prop, rapidly transforming sloppy "veil wrestling" into clean lines;
an introduction to principles of air design for more compelling improvisation and choreography;
a mentoring resource to help growing dancers shape their artistic vision.
Contrary to popular belief, the veil does not have a mind of its own: highly consistent highly reproducible veil technique is 100% achievable—the key is to understand and train clean clear movement pathways. Veil Masterclass defines these pathways, giving you a framework to practice in a way that will allow you to take ownership of veil vocabulary. As your muscle memory takes over, your level of effort will decrease, both literally, and visually. Everything will flow.
The program is 1 hour, 16 minutes, and does not contain a warmup. If you plan to actively follow along, please start with a warmup. Find it here. If what you are actually looking for is a class in nonstop flow format, try Veil Technique Flow instead.
Veil Masterclass begins with the basics:
how to hold the veil, and clear instructions for fumble-free transitions between grips;
step-by-step placement for arms, and mapping of defined arm pathways, to create the clean lines that make veilwork fluid and spacious;
graceful recovery and disentanglement after mishaps;
arm variations to create perfectly controlled billowing effects with walking, direction changes, and other basic travel steps.
Next, we catalog and break down basic vocabulary. This section includes plenty of demo and follow-along, but you will also get detailed instructions for the exact arm trajectories that maximize loft while keeping the movement of the veil easy to control. We examine:
the "poof" (also known as the overhead toss or flip), and how to consistently achieve uncramped lines with lots of overhead clearance, plus multiple variations;
swirling airy crossovers, with layering, timing, and placement variations;
shoulder to shoulder, with placement variations, including a detailed description of how to build sophistication and snap by punctuating the movement with a modified arm undulation;
sagittal swirl, and how to avoid the common mistake of creating a flinging effect;
five variations on close-open, with specific instructions on creating the maximal ripple details in your air design–

close up, and close down,
figures of 8,
catch and release,
twist and drop.
Building on the basics, we move forward into arm placement and amplification arm layering paths to complement pivots, turns, and spins. Then, we're ready for "tricks," the more sophisticated sequences that create dazzling accents in your dance:
change direction in a turn underneath the veil, with placement notes on how to avoid blocking your face;
barrel turns, starting with a quick overview of the turn itself, then with options for using the veil either behind or in front of the body;
step-by-step for "the envelope," a fast-change sequence to create dramatic transformations; and
step-by-step for "the butterfly," another attention-grabbing quick change, with an examination of ways the component steps of the butterfly can be repurposed into free-standing vocabulary.
We close out our vocabulary section with the veil folded up into a long skinny shape, like a rope. Using this gathered shape extends our dynamic range, and also creates additional options for stowing the veil on the body when not in use.
Having cataloged dance vocabulary, we turn next to how to start and end the veil portion of your dance. First, we'll discuss the contextual and political considerations that surround the performative act of "unveiling," and consider ideas that will help you make smart, comfortable, considered choices about what you want to portray and to be perceived in your dancing. For those that wish to "veil," and "unveil," (and for everyone who just wants to have some classroom fun) we'll go step-by-step through four wraps:
a simple front criss-cross;
around the back and over the shoulder;
the "vest";
and, finally, the "Oriental Fantasy," a wrap that sets you up for a very sexy old-school conceal and reveal unveiling sequence.
Plus, since many dancers prefer not the wear the veil as a body drape, we'll also run through numerous other ways to carry the veil unobtrusively on your person, or to retrieve the veil when you reach that portion of your show. And, for everyone, we'll look at graceful ways to discard the veil, and run through a few tricks-of-the-trade to make sure your prop will still be where you last left it while you are busy on stage.
Our program concludes with a demonstration and break down of three deep stretches to improve your range of motion.
Bookmarks for Veil Masterclass
0:36 How to Hold
2:48 Grip for Short Edge of the Veil
3:09 Switch Between Grasping Long and Short Edges
3:59 clean arm lines for clean veil lines
5:07 What do you get when you cross a T-Rex and a camel?
7:35 Disentangling Yourself
9:17 Arm Positioning When Walking
12:17 Poof (Overhead Toss)
15:17 Crossover
18:42 Crossover Variations
19:55 Shoulder-to-shoulder
22:56 Combo: Shoulder; crossover; poof
25:12 Sagittal Swirl
27:43 Close Front and Open
29:01 Close Up and Close Down
29:25 Combo: Crossover; F-B; U-D
30:28 Combo: Walk 3; U-D
30:43 Figure 8
32:57 Catch and Release
33:53 Combo: close-open; catch-release; u-d
35:57 Twist and Drop
37:24 Pivot, Turn, Spin
38:26 Combo: 2 count turn; twist and drop
39:22 Direction Change Under the Veil
40:43 Barrel Turn
41:55 Envelope
43:55 Judgment Call: Framing the Eyes
44:47 Butterfly
46:50 Gathered Veil
48:58 Veiling and Unveiling Considerations
55:24 Wrap 1: Front Cross-Cross Wrap
56:57 Wrap 2: Around Back, Over Shoulder
58:16 Wrap 3: Vest
59:49 Wrap 4: Oriental Fantasy
1:02:57 Alternatives to Unveiling
1:08:42 Discarding the Veil
1:11:19 Deep Stretches for the Shoulders
1:12 Deep Stretching Step-by-Step