Packed with Details: "Lessa Faker" Choreography Excerpt 1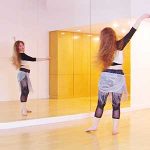 In "Packed with Details," we learn a 64-count combo designed for music excerpted from the Egyptian Classic "Lessa Faker," but which can also be repurposed for improvisation or other choreography. The program begins with technique breakdowns of key moves for those who want this material, then moves into nonstop flow format. We begin with a warmup, a long flow for arms, and a long technique flow where we drill vocabulary and the transitions we'll need for our combo. Then, we practice the combo, with "Lessa Faker," at slow, medium, and full speeds. Finally, we repeat this exercise leading from the other side, because, yes, that is how we roll.
The level for this program is "slow intermediate:" intermediate vocabulary, but lots of repetition. If the program gives you more or less repetition than you desire, simply use the bookmarks to move to the your preferred next section. Choreography notes are attached. (Download with your rental or subscription.)
After you finish this class, step forward to "Seam Free Construction," where we learn and dance a combo for the next section of music in Lessa Faker.
Bookmarks for Packed with Details
0:01 Intro
:50 Demo
2:17 Unweighted Hip Drop Tutorial
7:34 Forward Tuck and Backwards Tuck
9:43 Undulation for Today's Choreo
10:49 Twist Shift and In
13:05 Warmup
22:41 Technique Flow
44:23 Run Full Combo
46:52 Combo Leading Left
51:20 Drill First 8 counts with loop
54:55 Walk through Combo
56:40 Very Slow Practice
58:52 Medium Speed Practice
1:00:51 Full Speed Practice
1:02:40 Very Slow L side
1:04:53 Medium L Side
1:06:52 Full Speed L Side
Music for Packed with Details
The music for our combination is "Lessa Faker" from the album Oriental Fantasy Vol. 1– Ala Nar by Beata and Horacio Cifuentes
13:05 Music: "Azzuri" from the album Lavender by Middle Earth Ensemble
35:06 "Ciftetelli Takasim 2" from the album Bellydance New York by Amir Naoum Chehade and Elias Sarkar
38:49 "Ganil Hawa" from the album Oriental Fantasy Vol. 2 – Inta Omri by Beata and Horacio Cifuentes
45:23 "Inta Omri" from the album Oriental Fantasy Vol. 2 – Inta Omri by Beata and Horacio Cifuentes