"The River" Lesson 4 of 4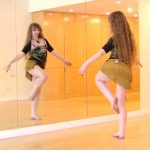 Lesson 4 of 4. In this segment, we finish off both the veilwork section and the complete dance. A PDF of notes for the full choreography is attached. For renters, the pricing on this video is lowered so that parts 4, 5, 6, and 7, collectively, comprise the regular rental price of $7.99.
Dancers: You are free to perform this work, as choreographed, or with whatever modifications you desire. When practical, please credit as "choreography by Autumn Ward" or "modified from an original choreography by Autumn Ward," and include a link to AutumnWard.com
Bookmarks for Lesson 4
0:04 Arm Technique Flow
5:11 Technique Flow
20:33 Veil Technique Flow
26:11 Demo
28:49 Choreography Step-by-Step
36:18 Choreography Walk Through
38:11 Choreography Practice
41:56 Review Veil Tuck
43: 20 Review Lessons 1, 2, 3
Music
The music used for the choreography is "The River" from the album Sea Spirits by Jesse Manno.
Other music used in Lesson 4:
0:03 "Azzuri" from the album Lavender by Middle Earth Ensemble
4:48 "Karuna" from the album Star Of The Sea by Stellamara
13:51 "Underworld" from the album Underworld by Nightfall Project
16:05 "To Morocco With the Stars" from the album My House is the Sky by Mundi
20:34 "Ra Returns" from the album Beautiful Earth by Bella Gaia